Lawyers And Charities Team Up For Leicestershire Health Awareness Day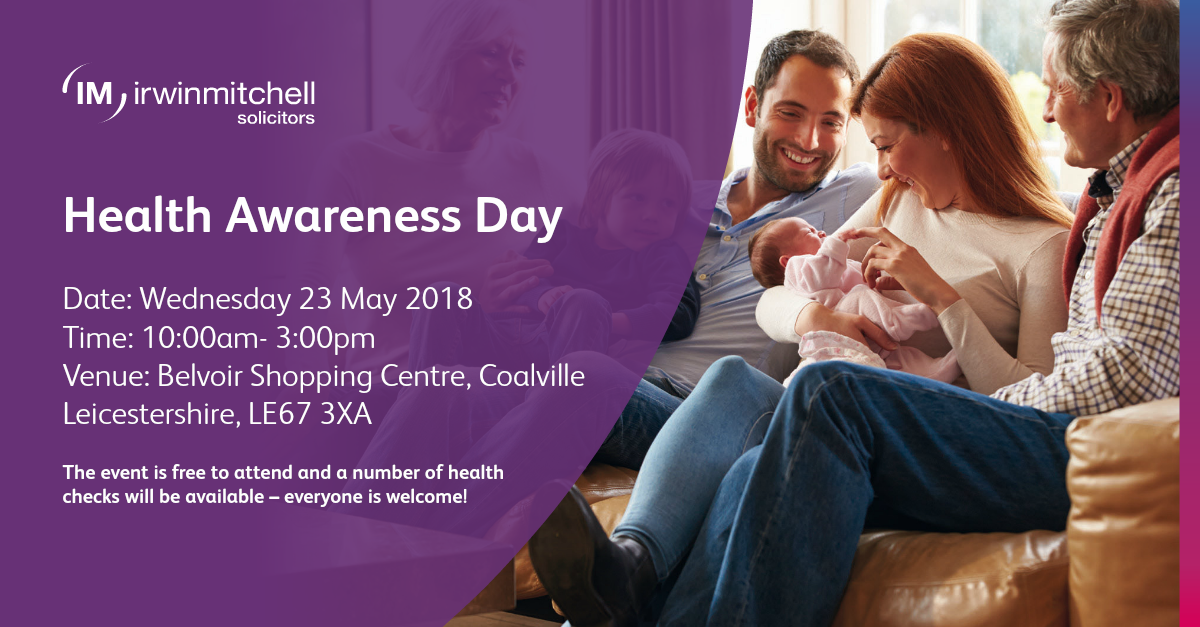 Today we are open
Monday

9:00 am - 5:30 pm

Tuesday

9:00 am - 5:30 pm

Wednesday

9:00 am - 5:30 pm

Thursday

9:00 am - 5:30 pm

Friday

9:00 am - 5:30 pm

Saturday

9:00 am - 5:30 pm

Sunday

10:30 am - 4:30 pm
Leading national law firm Irwin Mitchell is joining forces with a number of major charities to host a special Health Awareness Day in Leicestershire later this month.
Taking place at the Belvoir Shopping Centre in Coalville on May 23rd, the free event will see representatives from organisations including the Loros Hospice, Carers UK and the Alzheimer's Society offer advice and support on a range of health-related matters.
The charity Silver Star Diabetes is also set to attend and will be offering visitors checks using its mobile diabetes unit, while lawyers from Irwin Mitchell will offer information on legal issues ranging from court of protection and medical negligence to serious injury and workplace accidents.
Anne Brundell, a specialist lawyer from Irwin Mitchell who has been involved in organising the day, said: "As a national law firm we are committed to getting out and about and engaging with communities across the UK and events like this are a great opportunity to do just that.
"We are really looking forward to the event in Coalville and are excited that we will be joined by a host of charities on the day who carry out amazing work in helping people. With a range of expertise on hand, it is sure to be a great opportunity to get advice and support on an array of issues."
Irwin Mitchell's free Health Awareness Day in Leicestershire is taking place at the Belvoir Shopping Centre, Coalville from 10am until 3pm.
COPYRIGHT BELVOIR SHOPPING CENTRE. ALL RIGHTS RESERVED 2017